Besides default options, you can add more options to right click context menu for enhanced functionality. We have already seen how to add "copy to" and "move to" options to Windows right click context menu. Copy File Name utility allows you to add "copy files name" option to Windows right click menu to easily copy file name of specific file.
Get 'Copy File Name" option in right click menu
1. Download Copy File Name & install the program.
2. Right click on any file & click "Copy File Name" option.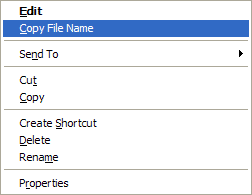 3. You will see a window with list of different representations of the selected file name (as seen in screenshot below).

4. Select either of file name format which is automatically copied to clipboard.
If you deal with lot of files on daily basis, copy file name option in right click context menu should be very handy and easy.