Do you want to quickly copy paste text online between multiple Google Doc files? Now you can easily do this online just like we do offline within Microsoft Office (or on Windows) using 'Server Clipboard' feature. You can copy (Ctrl + C) from any opened Google Document and then paste (Ctrl + V) to any other Google Document quickly. Copied text is stored online and can be accessed anytime.
How to Copy text within Google Docs
1. Goto http://docs.google.com & login into your Google Account.
2. Goto File > New or open any existing document, spreadsheet, presentation.
3. Type any text. Select the text using mouse (or press Ctrl + A).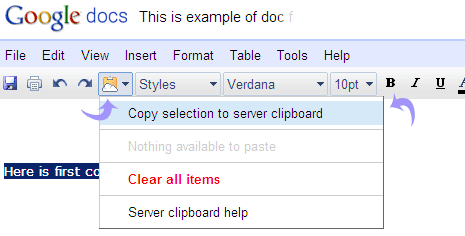 4. Click 'Server Clipboard' icon & then click 'Copy Selection to server clipboard'. Selected text will be copied to server clipboard. You can copy multi text to this online temporary clipboard. [Tool for multiple text copy – paste]
Paste & clear text on Server Clipboard
1. Within any opened Google Docs file. Click 'Server Clipboard' icon, point to copied text and click either of paste 'as HTML' or 'as plain text' option.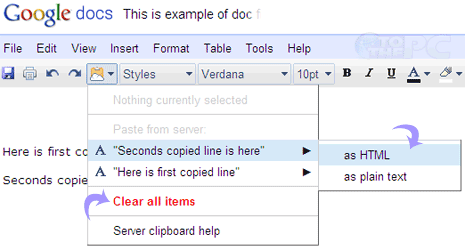 2. You can click 'Clear All Items' button to delete all the copied text stored on 'Server Clipboard'.
Unlike Clipboard on Windows, copied text remain on 'Server Clipboard' even after you log out from Google Docs account and disconnect internet. By default, all the copied is available for paste for period of 30 days. Now this is cool and easy, what say? [via Gdocs Blog]