Copyright symbol is important to establish copyrights of specific visual that is available on the internet. You can add copyright symbol to your images and creative designs to indicate its ownership and prevent any mis-use. Copyright symbol can be easily added to photos and screenshots in Adobe Photoshop software using following procedure.
Add Copyright symbol in Photoshop
1. Open Photoshop program on your computer.
2. Goto File > Open & load photo into the program.
3. Right click 'T' text symbol on the left toolbar & then left click to select 'Horizontal Type Tool'.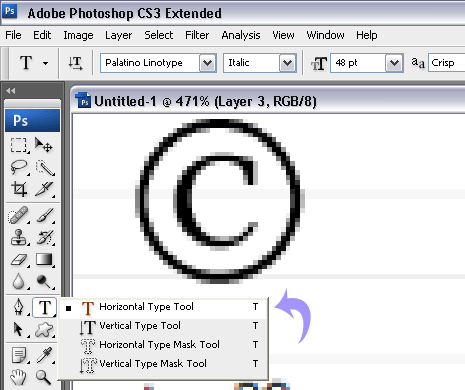 4. Then click anywhere on the photo, hold down the ALT key and type 0169 (make sure you use keypad at the right of the keyboard, using number keys at the top of keyboard won't work)
Add more special symbols in Photoshop
There is unique character for each type of symbol. For example:
Copyright Symbol: Alt + 0169
Registered Trademark: Alt + 0153
You can get this unique number for different special symbols using character map feature on your Windows PC. Just open the Character Map window and click to see keystroke number at bottom right.