Playing with colors in photo isnt easy if working in 'Photoshop' is not your cup of tea. No worries, Tint Photo Editor is a small free software that allows you to play and manipulate colors in any photo in few simple mouse clicks.
To get started, select any photo of your choice and then select number of color areas of your choice. You will be presented with different version of selected photo with varrying colors. Select the photo you like and save it (& flaunt it).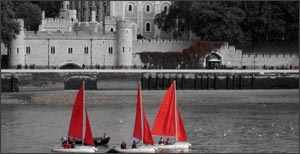 This software is strictly for beginners (and Photoshop users wont like this). It does not allow manual selection of colors for different areas in a photo. Fully automated and very easy to use application to play with colors. Download Tint Photo Editor
P.S. Incase you want to play with colors in Photoshop: Open any photo, goto Image > Adjustments > Desaturate. Then use 'history brush' from the left menu and apply it on areas that should be colorful!