Photoshop and other image editing software can be used to create awesome graphic effects. They can also be used for not so pleasing by-products.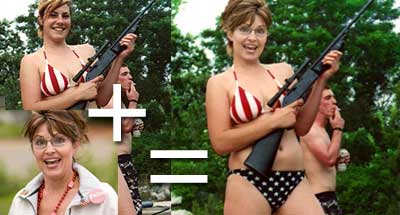 Republican vice-presidential nominee Sarah Palin in American-Flag Bikini holding a Rifle – this image has been talk of the web. Well, truth is out – its not Ms Palin but a Ms Plain photoshop WONDER.
Original body image had Elizabeth (by Doctor Casino on Flickr) posing in American Flag Bikini. While face photos was orginal [of course!] Sarah Palin photo (by J Medkeff on Flickr). That bikini photo wonder had face of Sarah Palin over bikini clad image of Elizabeth.
The Photoshop truth behind Sarah Palin bikini photo is out on the web (finally!). Photo manipulation always come handy for such itsy bitsy un-real pics like how to swell crowd at political rally with photoshop?