You can enrich email routine in Yahoo Mail using different applications. Each Yahoo Mail app adds specific functionality and feature to Yahoo Mail usage. You can add and use specific apps from application gallery within Yahoo Mail inbox to perform tasks in addition to regular email writing.
Using Yahoo Mail applications
1. Goto YahooMail.com and login into your email account.
2. Make sure you are using new Yahoo Mail. If you see 'classic' written on Yahoo Mail logo, then click on 'try new Yahoo Mail' button at top right.
3. Once in new Yahoo Mail interface, you will see "Applications" box at bottom left.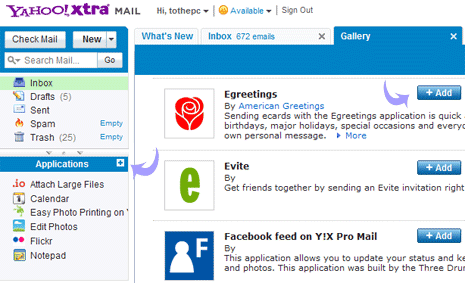 4. You can use either of existing application. Click + sign to view application gallery.
5. Then click "add" button next to specific application to load and use it within Yahoo Mail.
You can choose among different Yahoo Mail apps like: easy photo printing, egreetings, picnik, drop io, evite, facebook feed and lots more.