Yahoo email service now support alias (disposable and temporary) email IDs linked to primary Yahoo Mail account. You can create disposable email ID from within existing Yahoo Mail account and provide that email ID to people and service where you do not wish to disclose actual Yahoo email ID. Multiple disposable alias Yahoo email IDs can be created and there is no need to rely on third party temporary email ID services. All emails sent to those IDs can be received and read in the primary Yahoo Mail account.
Procedure to create Disposable Yahoo email ID(s)
A disposable Yahoo email Id is made of two components: [Base Name] – [keyword] @ yahoo.com ID. First time you create disposable email ID, you have to select a base name. Be very careful while selecting base name as it can only be changed twice through whole lifetime of Yahoo email account. Once you confirm on base name, add different keywords to it for creating multiple disposable email IDs.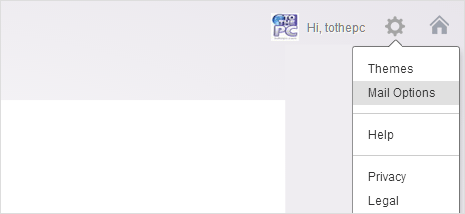 1. Once you login into Yahoo Mail account, click the gear button at upper right and then click on Mail Options in the menu. This will open default Setting box (if you do not see settings box like in the screenshot, then you are still using old Yahoo Mail interface – wait for some days as Yahoo will automatically upgrade your Mail account to new interface with disposable email IDs feature).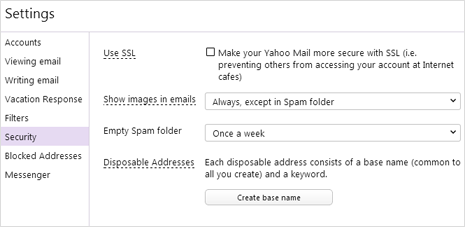 2. Click on Security option on the left sidebar and check for "Disposable Addresses" option on the right side. Click Create Base Name button and then enter base name as per your choice (The base name is the first part of your disposable address and is common to all the disposable addresses you create).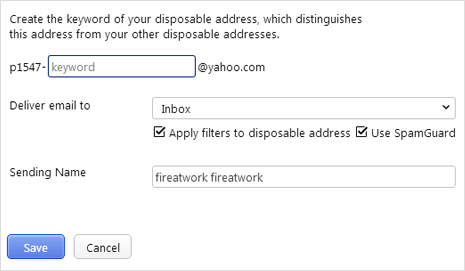 3. Once base name has been selected, click Add button to create new disposable email ID in this format [base name] – [keyword] @yahoo.com ID. While creating new disposable ID, you can select destination folder for incoming emails for this specific ID and enter name that should appear as sender on emails sent from this ID.
Video: Make multiple temporary Yahoo email IDs
Delete or add Disposable email IDs in Yahoo
1. Repeat steps 1 and 2 to open Security options on Yahoo Settings box. Then select any existing email ID that you want to delete and click Remove button to confirm removal.
2. To add new disposable email IDs, click add button and then enter unique keyword to existing base name for making disposable alias email ID in Yahoo account.