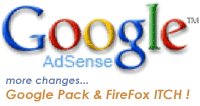 Recently Google Adsense yanked off 'Referral unit for AdSense' for most of Adsense users, except those in North America, Latin America and Japan. They have come up with a modification in this decision.
Now 'Referral unit for AdSense' validity and earning will not be based on the location of the Adsense Publisher but on the location of users who sign up for Adsense using your 'referral unit for Adsense'. This is good and will provide level playing field for all Adsense publishers irrespective of their location. Adsense Blog adds:
"…You'll earn $100 for every user you refer to AdSense who is located in North America, Latin America or Japan when they generate $100 in AdSense revenue within 180 days and they remove all payment holds. You'll no longer be paid for users you refer who are located elsewhere. These changes will go into effect the last week of January."
Adsense is on real cost cutting, after slashing referral rates for 'Referral unit for AdSense' same is being done for the referrals programs for Google Pack and Firefox.
Currently Google Pack can earn up to $2 when a user downloads and runs Google Pack for the first time after being referred through your link or button. Starting the third week of February, each successful Pack referral will earn up to $1.
There will be reduced payments for Firefox referrals from China during the third week of February. This specific referral payment change will only affect installations from users in China. Both these changes are independent of your location as a publisher.
Adsense is evaluating campaigns to make them effective and sustainable which has resulted in this price revision. As such referrals never worked well for me. Hope they keep generic adsense ads on the roll!