Your email address is likely to be spammed if you publish email ID in normal text format on a webpage. Spam bots capture email IDs, create a list and start sending spam email IDs in that list.

We have already seen 3 Ways to prevent your Email ID getting Spammed by showing email ID as an image, email encoder and tweaking email formatting.
Logo based Email Icon generator is good alternative to show your email ID as a jazzed up image. However, if you want more options to generate email icon then check out 'Spam Proof eMail Generator'.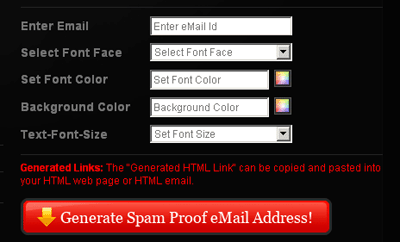 It provide number of formatting options in terms of font face, font color, background and font size. You can configure them as per your requirement.
Besides creating spam proof email icon, it also provide free hosting for the same. You get direct image link for download and forum code for embedding email icon.
Details – Spam Proof eMail Generator
If you are already using email icon to share your email address online, you can use this generator to further customize Email icon looks.