For all the users of Yahoo Mail in India, here comes good news: Yahoo Mail will be available in Hindi in its classic version. Previously Yahoo launched its portal in seven Indian languages (Hindi, Kannada, Tamil, Telugu, Malayalam, Punjabi and Gujarati) and just recently gave Yahoo Messenger's beta version hindi support.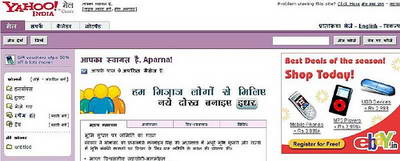 To send mail in Hindi
, the user will need a Hindi keyboard or the support of a Windows language program to input Hindi characters. Yahoo also plan to add transliteration tools in future. Yahoo Mail hindi will be available in 2-3 weeks in phased manner. Most of the services like news feeds, icons, send and write mails will be available in Hindi to yahoo members.
Ads shown in hindi version will be hindi with plans of adding more localization later. While Yahoo Mail will still take time to give you hindi option (phased roll out), in case you are eager to chat/type in hindi then check out Yahoo Messenger 9.0 beta version.
Yahoo seem to be in mood to take competition head on, as other big players like rediff already has Hindi Messenger and email in 11 Indian Languages.