By default we use ISP (Internet Service Provider) DNS for surfing websites on the internet. Now you can alternatively switch to Google DNS service for faster and more secure internet surfing. You can manually setup Google DNS on your Windows computer and use Google DNS server instead of ISP's default DNS server. "Google DNS Helper" is a free utility makes this process all easy involving few simple clicks.
Backup current DNS & change to Google DNS
1. Download Google DNS Helper tool [website].
2. Launch the program by double click downloaded file. It is portable tool and does not require installation.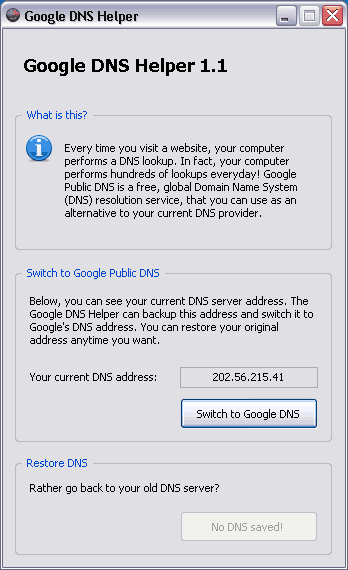 3. Click "Switch to Google DNS" button to change DNS settings automatically.
You can click button under "Restore DNS" to revert back to original DNS settings (incase you want to). For sure one cool tool for easy switching of DNS settings without having to click through multiple windows for manual editing of DNS values.