Tumblr(.com) is a popular free microblogging service. It stands out from other such services for being different in looks with robust features like posting to Tumblr blog via email. There are number of 3rd party tools to do more with your Tumblr blog like tool to generate sitemap of Tumblr blog. "Tumblr Backup" is a new tool to backup and create copy of Tumblr blog on MAC.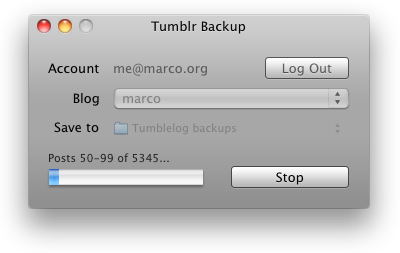 This tool creates functional backup copy on your Mac system. After the backup, just launch index.html file to view your Tumblr blog offline on your computer. Backup copy of blog has simple look using minmilitic theme. This app is still in early stages and cannot backup stuff like: private tumblelogs, submissions, Notes, feed-imported posts and audio files from reblogged posts.
If you happen to be a Mac user and blog using Tumblr service, then test drive this tool for creating backup copy of your blog. Download Tumblr backup app (only MAC), expect to see more features in future releases.