Shooter is a cool Firefox plugin for taking quick screenshot of webpages viewed in Firefox browser. You can capture screenshot of full page or specific selected region. It can save final screenshot as JPG or PNG image in high or low quality. By default, full screen webpage is capture and you can select specifc region using mouse.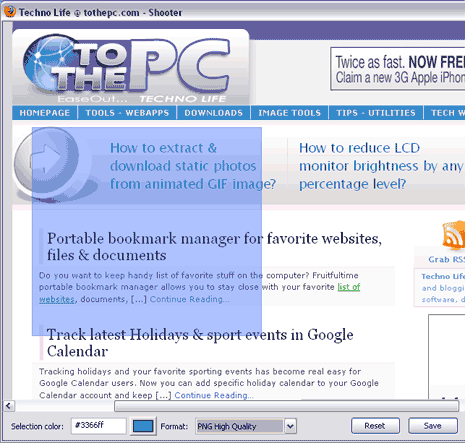 Steps to use Shooter plugin to take screenshots
1. Open Shooter download page in Firefox browser.
2. Click download button and installthe plugin.
3. Close and reopenthe Firefox browser.
4. Open any website, whose screenshot you want to take.
5. Goto File > Shoot This Page(or press Ctrl + Shift + S)
Related – Capture a Webpage & Edit it within Firefox
A new pop-up window will show full page screenshot of webpage. You can select specific region or save full screenshot by clicking save button. Bottom bar on this window has option to select image save formats among JPG and PNG. Shooter for sure is one easy to use Firefox plugin for quick website screenshot capture.