Nero DiscSpeed is a free portable utility to check the quality of an optical drive. It allows you to check basic aspects of your drive while trying to read CD, DVD discs. It checks for: transfer rate, seek times, CPU (Central Processing Unit) usage, burst rate, DAE (Digital Audio Extraction) quality & Spinup/spindown time.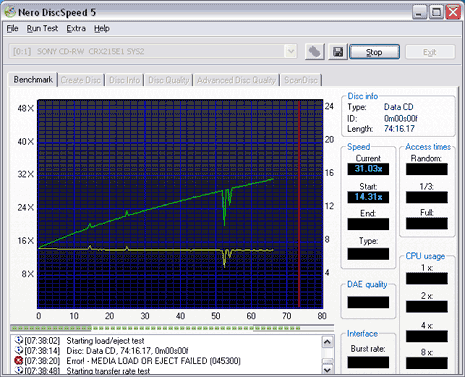 Test Optical drive with Nero DiscSpeed
1. Download Nero DiscSpeed utility [3.20MB].
2. Double click downloaded file to launch utility.
3. Insert disc, select optical drive and click Start button.
Related – Measure Read & Write speed of Hard drive, CD ROM
This utility will test the optical drive and show live progress in the form of line chart. It also show other details like speed, burst rate, DAE quality on the right side. One easy to use utility to check on basic quality parameters of optical drive on the computer.