DNS stands for Domain Name Server. You need to change them in an event of moving website from one hosting company to another. For a new domain / website, you need to assign DNS value as per specific web hosting company. DNS change (propagation) can take some time to take effect throughout the internet (generally between 24 – 48hrs]. This time can be anxious for a webmaster to know the exact status of DNS propagation.
Use online tool to check current DNS settings
Preshweb online tool allows you to quickly check on DNS status of any website. Just enter the website URL (like www.tothepc.com) and click 'check now' button to see DNS results of the website. If new DNS setting appear, imply DNS has propagated or has started propagating.
Portable tool to check DNS working status
Above online tool can be used to check on DNS status in event of moving to different web hosting provider and change of DNS settings. If you are setting up new website and has assigned DNS, then use "dnspchecker" tool to check if website is working with new DNS settings.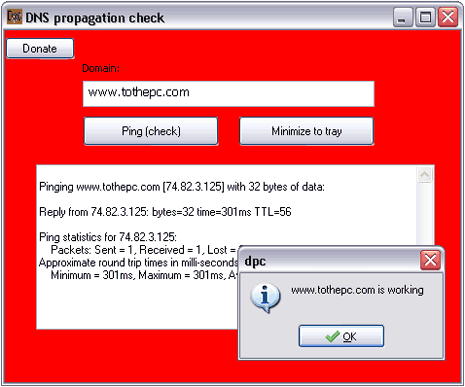 Download dnspchecker tool, unzip and double click to launch the program. Enter the domain name like www.tothepc.com and then click on ping(check) button to see status of specified website URL.