Ianm has discovered a cool feature of tracking flight status using Live search. Just enter the flight number and hit the search button to see LIVE flight status. For example for British Airways flight number ba 10, enter flight status b10 in the search box. It will show to – from location and time details for the specific flight.
You can also track flight real time (like we do using screens onboard plane), just click on 'track this flight real time' link on search results page. There is more, you can check for fare prices using 'Data provided by Farecast' weblink.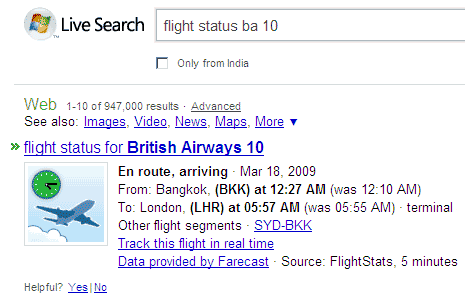 This feature currently seem to work for flight in US and Canada. Live might include other countries moving forward. Still a very handy feature to keep track of flights on the click of a button on LIVE search.