Microsoft has 148,357 servers & 15 Datacenters that gobble up loads of energy. Well, Google has a different eco-friendly story to tell regarding energy consumption of their datacenters and servers.
"… the energy used per Google search is minimal. In the time it takes to do a Google search, your own personal computer will use more energy than we will use to answer your query." Yeah, believe it and here is more.
Official Google Blog explains steps taken by Google to save electricity and total energy consumption by their servers and datacenters. Following graph show their achievement by comparing Google and Non-Google datacenters.
"… our data centers use considerably less energy for the servers themselves, and much less energy for cooling, than a typical data center."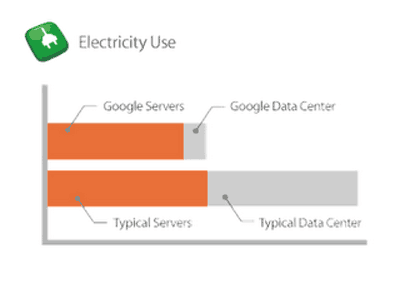 Still not convinced? Google has special website explaining in detail 5-step approach to efficiency. So, next time you want save energy – use Google Search, are we doing anything different these day? Google Rules!