Twitter has lot of activity and following the same can be difficult at times. Google Search can prove real handy in tracking latest activity of any public Twitter account. You can Google search for latest real time tweets, missing tweets in your Twitter client or high ranking tweets of any Twitter account using following procedure.
Specific Twitter account tweets on Google
1. Open www.google.com
2. Enter twitter site:twitter.com/tothepc in Google search box and click Search button.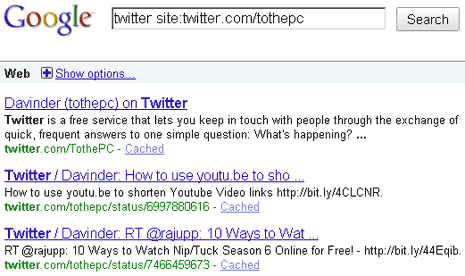 Above, replace tothepc with your Twitter username and see relevant Twitter account tweet results.
Real time Twitter results on Google
Previously, Google started to display real time Twitter results on the main results page. If you do not see them there, use following procedure to see real time results.
1. Open www.google.com
2. Type your Twitter username like tothepc & click search button.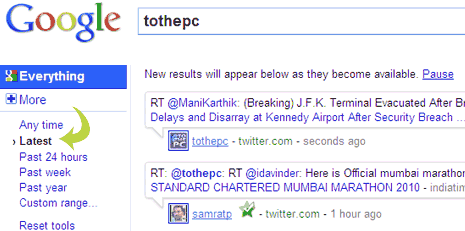 3. Then click "Show Options" & then click Latest option on left side. Latest real time results will be shown on Google Search.