Ranks, indexed pages, backlinks, blog reactions, search links are very important for every blog or website. On the lines of weblink popularity checker 'Social Scan', here is another web service with similar functionality – URLMetrix.

Just enter the URL and click on check. URLMetrix will check URL for metrics like: Google Page Rank, Alexa Rank, Compete Rank, Quantcast Rank, Technorati Rank, Google Indexed, Yahoo Indexed, Google Backlinks, Technorati Blog reactions and lots more.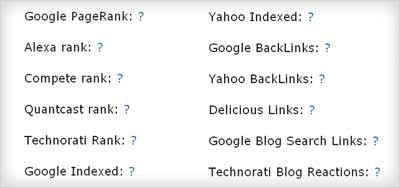 Above pic summarizes the information it provides on the same page. [URLMetrix] is one handy tool for quick check on different parameters of URL popularity and ranking.