One quick and easy way to share audio and videos files is converting them into self playing EXE files. "Audio/video to EXE" is a small utility that allow such conversion at a click of a button. After conversion you can play any audio and video file without worrying about audio / video player or codecs for specific media file.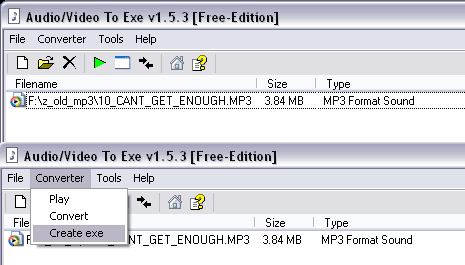 Hence you can use this tool to convert media files of different format types into EXE files which do not need special codec files for the playback. Besides conversion features, it also has: AVI-Muxer, Direct-cut, IDE tag editor and WAV creator. Download Audio/video to EXE, it is a free portable tool and does not require install. Very handy to share any type of audio video file without worrying about file format.
It supports formats: 3gp, aac, ac3, aiff, asf, avi, exe, flac, flv, gif, m1v, m2v, m4v, mka, mkv, mov, mp2, mp3, mp4, mpc, mpg, nut, ogg, ra, rm, swf, vob, voc, wav, wma, wmv, wv, yuv.