Google Plus has again refreshed the user interface and added new features like auto enhance. This feature automatically works in the background on new uploaded photos in your Google+ account. As the name suggests, it enhances look of images using automatic photo filters. This feature automatically makes adjustments to brightness, saturation, contrast of uploaded photos.
Why you may not want 'auto enhance' feature
While auto enhance make image look more crisp with better color and brightness, the natural look of the image is some-what lost. This is more understood by professional photographers.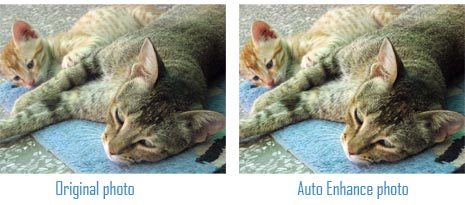 Like many photography enthusiasts, they prefer natural and manual photo correction as against automatic photo filters (like here in the form of auto enhance feature). Hence, few users may not what to use this 'auto enhance' photo feature.
Disable 'auto enhance' feature for new Google+ photos
By default "auto enhance" feature is enabled for new photos that you upload on Google+ account. For older photos, you can apply auto enhance manually by going to 'Edit' mode of image. Fortunately, Google provides option to turn off and disable 'auto enhance' feature for all photos on Google+ account.
1. Once you login into Google Plus account, goto Home > Settings option or directly open Google+ Settings page. Scroll down and navigate to "Photos" section.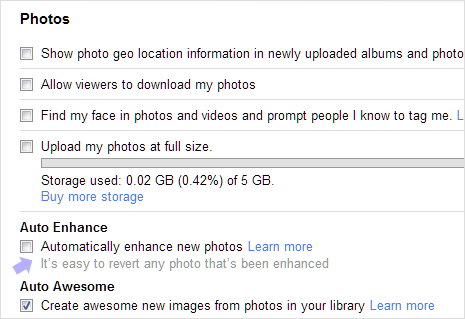 2. Uncheck "automatically enhance new photos" option. This will disable and stop 'auto enhance' feature on your Google+ account.  For images already auto enhanced through this feature, you can revert back to original uploaded image format anytime.
3. Open specific photo in the preview mode. Then goto More option and uncheck the "auto enhance' option.  This will revert enhanced image to original uploaded image. Auto Enhanced images also has enhanced marker logo (at top left) for easy identification.
Video: Disable 'auto enhance' photo feature on Google+
For majority of Google+ users, auto enhance is a welcome feature addition as it cleans up images automatically. However, for photography enthusiast – automatic filters is pass and manual editing is more preferred.