Privacy and security of documents is very important whether they are created offline using Microsoft Office program or made online using Google Docs service. There is constant worry of securing documents containing sensitive information. Google Docs users can tighten control on documents they share by using "prevent viewers from downloading" feature.
'Prevent viewers from downloading' Google Docs feature
1. Once you login into your Google Docs account at docs.google.com website, you should see listing of documents in your account. Right click specific document that you want to secure by disabling download option.
2. Then click on "prevent viewers from downloading" option. This will remove downloading option and other users viewing the document cannot download the document file as a whole and reproduce its copy.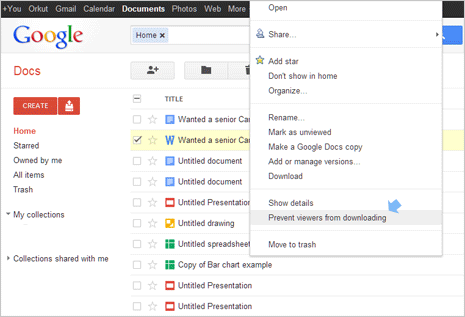 Also note, since you can only prevent downloading of documents created by you, click 'Owned by Me' option on left side. This will display document created and owned by you. Then you can disable and prevent document downloading option for files on display.
Is it effective way to prevent document downloading
As the saying goes 'something is better than nothing', this feature removes the download button from specific Google Docs document. For an average user, no download button signify – document cannot be downloaded. However, for geeky users – downloading Google Docs document even with download button missing should not be a tough ask!