Even with few tweets per day, one can end up with huge number of tweet messages shared on Twitter over a period of time. Ever wanted to save all tweet messages and browse them offline without any internet connection. Twitter has now made available official way to download complete tweets archive file. Any Twitter user can request for full tweets archive file download containing all tweets and re-tweets.
Download archive file of all tweets of Twitter account
1. Open Twitter.com website and login into your account. Click on Gear icon and then click on 'Settings' option. Scroll down to bottom of Twitter Settings page and look for "Your Twitter archive" section.

2. Click on 'Request your archive' button. You should see confirmation box informing: your request has been received and you will be notified about archive file download via email message from Twitter.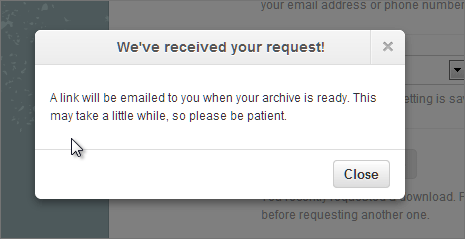 Don't have 'Request your archive' button – Twitter is rolling out this feature in a phased manner, you should see this option live for your Twitter account in coming days.
3. Now open Email inbox of account that is associated with your Twitter account. Then open email message received from Twitter, it contains link to access download page for your Twitter account's tweets archive file.
4. Clicking that link will redirect you to Twitter webpage for file downloading. Click on 'Download' button to finally download archive file containing all your tweet messages. It will be standard .zip file.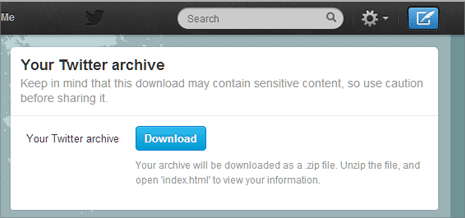 5. Once file is download, double click it to view contents. Then click on index.html file to view tweets archive file. It will open in your default web browser like Internet Explorer, Firefox, Google Chrome.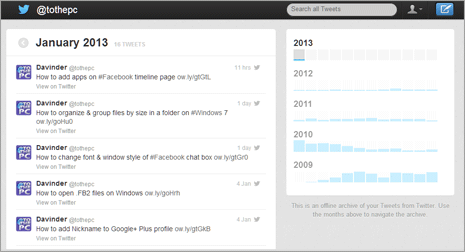 6. Offline Twitter archive is displayed in a neat manner for quick navigation to specific tweets by month and year-wise. Just click on specific month to view number of tweets and actual tweets (RTs) during that period.
Video: How to download Tweet archive file from Twitter
Make sure you save the downloaded .zip file at a secure place. You can browse your old tweets anytime without worrying about internet connection. Even print few or all Tweets archive for that nostalgic safe keeping. If this method isn't working for you, then you can explore third party tools to backup and save tweets of your Twitter account.