Facebook is hugely popular social networking website. Users can create free account and then customize their online profile at Facebook. After initial setup: they can add friends, post messages, upload photos, create fan pages, communities and lots more. Many "not so good" elements try to take advantage of Facebook users by redirecting them to malicious websites through phishing (like fake login page) and other means. Hence, it is important to only use official Facebook login page to stay protected from such elements.
Official Facebook Login page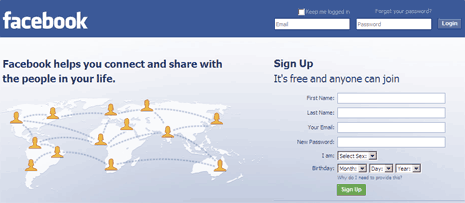 Official Facebook login page is available at (http://www.facebook.com/) URL. You can login into existing account using username, password fields at top right. For first time users, you can create new Facebook account by filling Sign Up form on the same webpage.
Facebook Lite (alternate login page)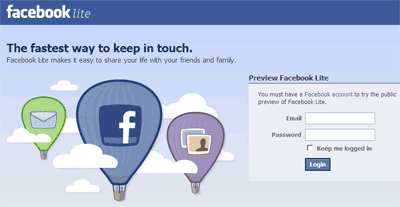 If you are using slow internet connection, then you can use Facebook Lite login page at (http://lite.facebook.com/) to access "Lite" version of Facebook. Facebook Lite is different in layout and loads much faster than normal Facebook page. You can use same login details to login into Facebook 'Lite' version. UPDATE – Facebook Lite has been discontinued, it will now redirect to facebook.com
Facebook Mobile interface
You can use simple and quick loading Facebook mobile interface to view your Facebook account details and activity. Just goto http://m.facebook.com/ and login into your Facebook account. Interface is very basic without too much stuff here and there.
Above are recommended web based ways for Facebook login. If you are using Facebook Lite version, you can easily switch back to normal Facebook anytime. There are number of software applications for desktop access to Facebook, use discretion while using such programs and regularly change password of your Facebook account to stay protected. Ready to login into Facebook?