'Fashion your Firefox' makes your Firefox browser from simple to spectacular. It is a new 'thingie' for new Firefox users who often tend to get lost on which plugin to install and use.
This feature from Mozilla make 'Firefox customization' process easy and saves lot of time. To get started with the process to add personal touch to your Firefox browser, you need to select the category that matches you.
There are number of categories, select addons your of choice as listed under different categories like finder and seeker, social butterfly, decorator, shopholic, News Junkie and many more.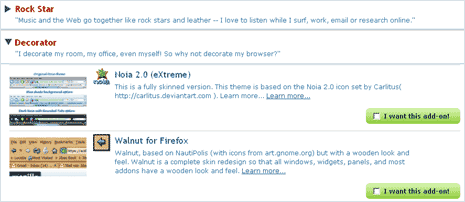 Here comes the best part, ideally one would install each add-on 'one by one'. 'Fashion your firefox' makes things a breeze and install all the selected add-ons in one go. So, its Firefox customization on steroids with stuff that interest you with 'Fashion your Firefox'.