We have already seen cool way to access Gmail messages from the desktop via new Google Desktop gadget. Here comes another Google Desktop gadget for your Google Docs. It allows quick access to your Google Docs and help you search, open and upload them on the fly.
While at work, you can easily pull up required Google Docs or start creating a new document. Best part about this gadget is the uploading process. No need to manually select files for upload. Just drag and drop files in the gadget window for quick upload to your Google Docs collection.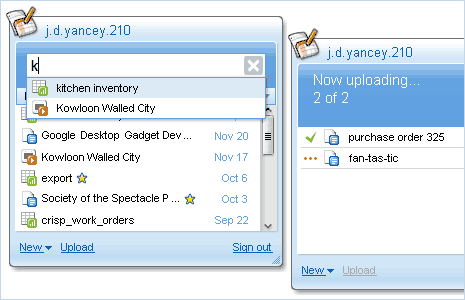 Grab the Google Docs gadget for your Google Desktop. It works fine with Windows and Linux version of Google Desktop. Another easy way to interface with Google Docs or use one click procedure to convert Gmail messages into Google Docs.