Can an average blogger afford to buy and publish expensive stock photos? Absolutely NO. But, now you can Publish Copyright Photos on your Blog for FREE with Picapp.
We reported about this cool service way back in Nov 2007. Beta version of this service has gone live and is very impressive for sure. It is as easy as it gets, just search the photo you want and embed it with the code provided.
Each photo has an overlay advertisement links which are nicely placed and does not intrude normal photo viewing. You don't even have to register or sign up to use photos on your blog.
After you select a photo, click on the embed link and enter your email ID. Then use the embed code appearing at the bottom of the photo to show selected image on your blog.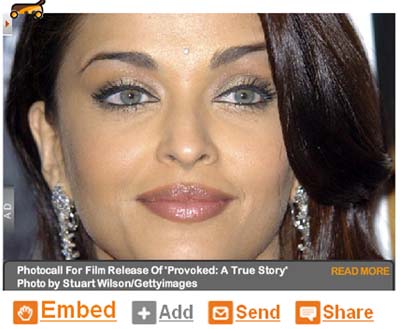 If you mouse-over the photo, display size is reduced and ads will appear at the bottom of the photo. You can read more about this service here.
Details: Picapp – Video DEMO
In case the idea of embedding photos laden with ads does not excite you, then checkout GumGum. It allows you to License Photos on Impression terms.