Many of us use digital cameras to capture personal moments at different times. There is constant issue with digital photos like shadow looking too heavy, grass in image look dark instead of green, overall image is little darker than natural tones. ColorCastFX is a free and small program that allows you to fix all this in few simple clicks.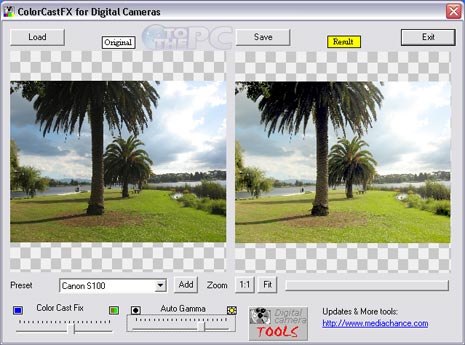 Adjust Color, brightness & Gamma
1. Download ColorCastFX program [weblink] & install it.
2. Goto Start > Programs > MediaChance > ColorCast to launch it.
3. Click on Load button to browse & open image for correction.
4. Move slider for ColorCastFix & Auto Gamma as per requirement.
5. Alternatively, select either of preset from drop down box.
6. Once done with image fixing, click Save button for better looking image.
Since majority of users do not have expertise, time and interest to learn Photoshop type of programs, ColorCastFX offer quick and easy way of fixing digital camera photos. Ready for some fixing?