There are number of ways to jazz up images like making colorful photo lose all but specific colors or even generating a monochromatic drawing of your favorite photo. For starters: a Monochrome drawing is a result of reduction of colors to just 2 with sharp borderlines. Panchromatic is a free portable tool to generate different type of Monochrome line drawings from any image.
Generate Monochromatic line drawings
1. Download Panchromatic program [60KB, portable].
2. Unzip downloaded & double click to launch the program.
3. Click Import button at top left to load image into application.
4. Select type of monochrome rendering from bottom left. Also select color of the line to be used in final drawing.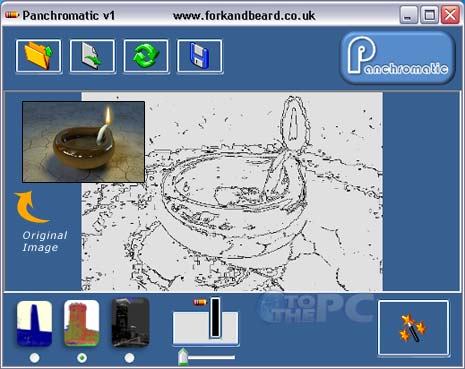 5. Click magic wand button at bottom right to generate monochrome drawing of selected image. You can click Save button to save final Monochromatic drawing image.