Ideally we can convert a BMP image to PNG format without quality lose and retaining transparency. Such process becomes time consuming and efforts laden if we need to convert number of BMP images to PNG format. Small portable utility "TransparentPNG" can comes real handy in such situation. It converts BMP to PNG while creating transparency on the fly by zeroing out Alpha values for White/Magenta pixels without effecting existing RGB values.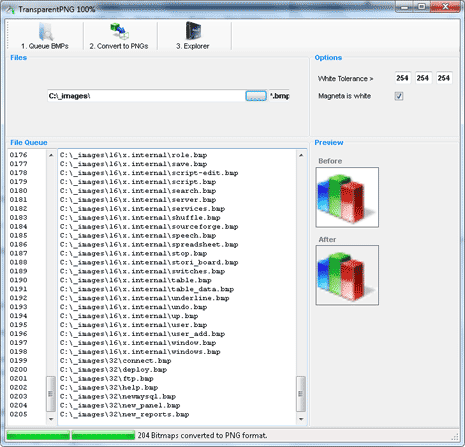 Batch Convert BMP images with TransparentPNG
1. Download TransparentPNG application program.
2. Double click to launch the program (no install).
3. Select folder with BMP files & click "Queue BMPs".
4. You can see options and preview window on the right.
5. Click Convert to PNGs button for quick batch conversion.
This for sure is simple and handy tool for quick batch conversion of BMP images to PNG format. Also see " SmillaEnlarger" to increase image size without losing on quality or look blur & fuzzy.