As expected, like previous Windows upcoming Windows 7 does not include any PDF viewer for easy opening and viewing of PDF files. Many of us are already familiar with issues of ever so slow Adobe Acrobat reader. "PDF Viewer for Windows 7" is a light weight and free application to quickly open, view and read PDF files on Windows 7 (and Vista, XP) computer.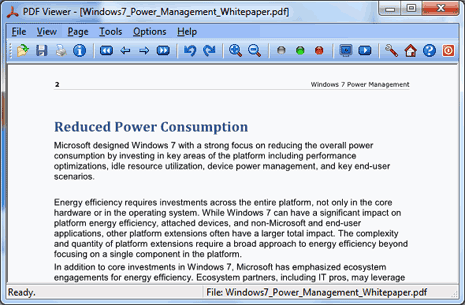 Features of PDF viewer for Windows 7
1. Open, view, read & print Adobe PDF files of all versions.
2. Supports zoom-in / zoom-out PDF pages to any PDF page to any size.
3. Rotate PDF page clockwise and anticlockwise.
4. Free Panning with drag of mouse or up/down arrow key press.
5. Supports 86 languages with Asian, Hebrew, Arabic fonts easy viewing.
6. See PDF document slideshow in full screen mode.
7. Has feature to extract text and images from PDF files.
Download Free PDF Viewer for Windows7, it is lightweight [927KB] and easy to use free viewer application to quickly open, view, read and print PDF files. [5 Alternatives to ever so slow Adobe PDF Reader]