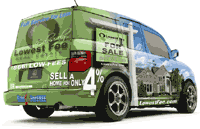 Ever heard of Drivertising? It means "… A vehicle that displays advertising for the purpose of drawing public attention to a product or service."
With rising gas prices 'Gas for Free' will find many takers. It allows you to advertise few products and services on private party vehicles and in return the vehicle owner gets FREE gas. One nice way to drive away for Free, read on.
"… We utilize vehicles that are already on the road, so we are not creating more waste or using more carbon to promote our clients products and services. When a campaign is finished, we recycle the vinyl after it is removed from a vehicle for use in other products." To get on-board you need to:
Own a vehicle that is between a 1998-current model year.
Drive an average of 1250 miles per month. (40+ miles per day)
Be the registered owner of the vehicle.
Have a valid driver's license & insurance.
AND have a clean driving record.
GasForFree [via Mashable] is waiting for your vehicle to show their advertisements and reward you with free gas. There is another similar service MyFreeCar, take your pick!