When Windows PC is left idle for some time, it locks by itself. Few users disable this feature and keep PC active all the time irrespective of inactivity or idle period. While you are away from PC, other users can easily see icons, folders and application programs on the desktop of your computer without even touching the mouse or keyboard. For better privacy, you can make the Windows computer hide all desktop icons automatically when it is left idle for sometime.
DeskDuster: Auto hide desktop icons when PC is idle
1. Small program DeskDuster adds this useful feature to your Windows PC. Once you install this program, you can access it from the system tray. Its minimal interface allows you to configure inactivity time period between 1 to 20 minutes (by default, it is set at 5 minutes). This program continuously monitors inactivity on the computer: like 5 minutes of inactivity on computer will automatically hide all desktop icons.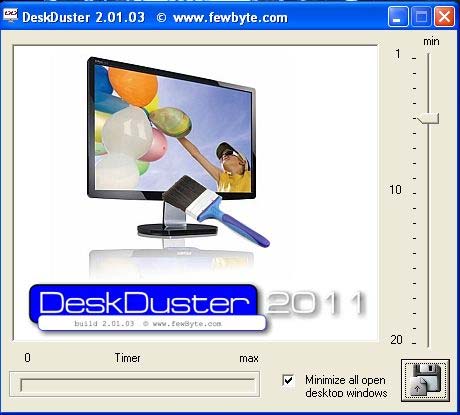 2. It also provide option to minimize all opened windows along with desktop icons hide routine. So if you leave computer idle for set time period all desktop icons will hide and all opened windows will minimize leaving neat looking desktop will only wallpaper display.
3. To show icons back on the desktop, just move the mouse or press any key on the keyboard. Deskduster program will quickly restore all icons back on your Windows desktop. This program is tested to work on Windows 7, Vista, XP computer (and should work on new Windows 8 also).
Hide all desktop icons without any utility program
Windows operating system has in-built feature to hide all desktop icons manually. Just right click on empty space on desktop and goto View > Show Desktop icons to make icons disappear from the desktop screen.