For starters, let us understand the concept of DNS. Say you type www.tothepc.com in your web browser, this URL will be first converted into associated IP address and then website will finally open. This conversion from URL to IP address to open website is done by DNS server. By default Windows uses DNS server of your ISP (Internet Service Provider).
DNS server of few ISPs can be real slow and unreliable resulting in slow internet browsing. You can easily use OpenDNS instead of your ISPs DNS server for faster browsing. OpenDNS is very fast and reliable way to surf the internet. Here are quick 5 steps to setup OpenDNS:
1. Click Start > Run – type ncpa.cpl and then click OK button. Vista users click Start and type ncpa.cpl in the search bar and hit the Enter key.
2. In the new window, right click on the active network connections icon and then click on properties option.
3. In connection properties window click Networking Tab and then click on Properties button next to uninstall button (make sure Internet Protocol TCP/IP option is selected).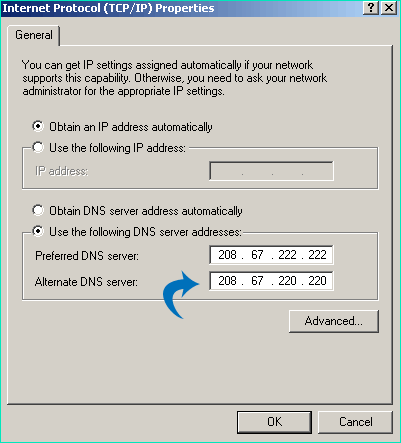 4. In new properties Windows, highlight option 'Use the following DNS server addresses', then type 208.67.222.222 in preferred box and 208.67.220.220 in the alternate box.
5. Click OK on opened properties windows and OpenDNS is all setup on your computer!