Be default, http version of websites are loaded in a web browser. You can make web browsing more secure by using https ecrypted version of websites. Only selective websites offer ecrypted https version for accessing their content. If you are Firefox users, then you can automate redirection of http to https version of website (if available). This can be achieved using https everywhere addon in Firefox and KB SSL Enforcer extension in Google Chrome.
Redirect http to https automatically in Firefox
1. Launch Firefox browser and open https everywhere addon webpage. Click 'install https everywhere' logo on the webpage to download Firefox addon.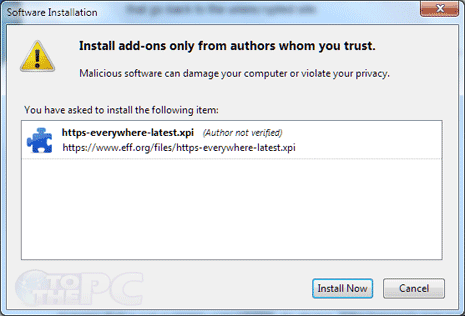 2. Click 'install now' button to start the installation. Restart Firefox browser to complete installation.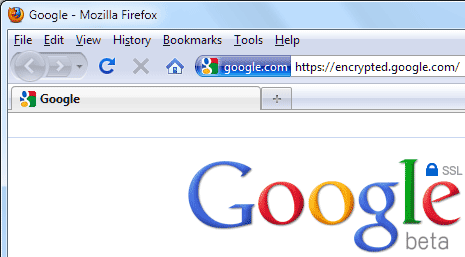 3. Test and use this addon for automatic http to https redirection. Open http://www.gooogle.com, it should be automatically redirected to https version of Google Search at https://encrypted.google.com
CONFIGURE WEBSITE LIST FOR HTTPS REDIRECTION
4. In Firefox browser, goto Tools > Addons.
5. Click 'options' button next to 'https everywhere' to open options dialog box.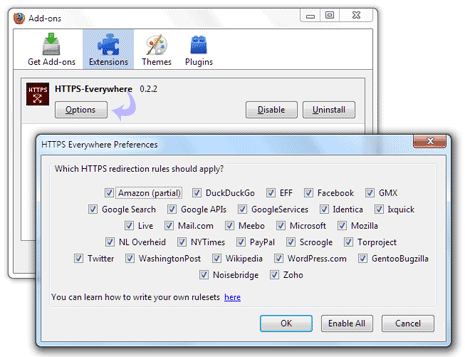 6. Click to check or uncheck specific websites where http to https redirection should enabled or disabled respecitively.
WEBSITES SUPPORTED BY HTTPS EVERYWHERE
Addon 'https everywhere' automatically redirects http to https version of websites like: Google Search, Wikipedia, Twitter, Facebook, most of Amazon, GMX, WordPress.com blogs, The New York Times, The Washington Post, Paypal, EFF, Tor and Ixquick.
Auto redirect to https version in Google Chrome
Just like Firefox, you can use an extension to automatically redirect http to https version of website in Google Chrome browser. KB SSL Enforcer Chrome extension comes handy in this regard
1. Launch Google Chrome browser and open KB SSL Enforcer extension webpage.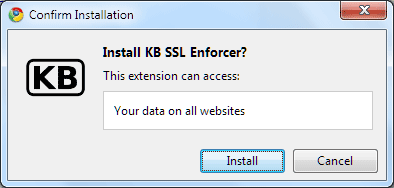 2. Click 'Install' button to download extension and install it in your Chrome browser.
3. Test extension by opening http://www.google.com and it should redirect to https://www.google.com/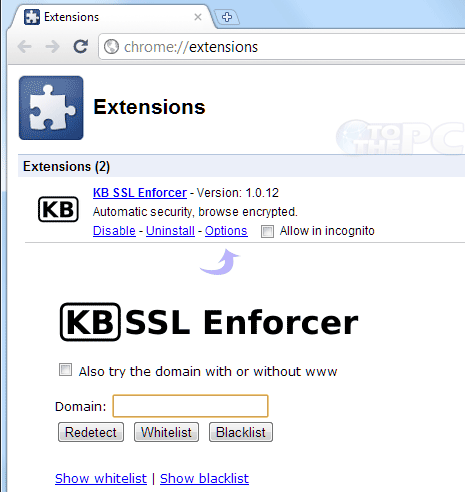 4. You can access options for this Chrome extensions to redetect and blacklist specific domain urls in regard to http to https redirection. Click on wrench icon at top right, goto Tools > Extensions and then click options button under 'KB SSL Enforcer'.
With ease of transition from http to https in Firefox and Google Chrome using respective extensions / addons – you can easily secure your web browsing through encrypted https version of websites to access online content.