New version (13) of Firefox browser is available for download now. Latest release pack in lot of improvements and new features like Reset Firefox. Most notable is redesigned look of new home and new tab pages. While elements displayed on new home and new tab are useful while browsing, few users may still want to see 'good old' blank pages while opening new home and new tab. You can easily switch between glossy new home and new tab pages to simple white blank pages in new Firefox.
Display blank page on new home window in Firefox
New home page in Firefox display usual Google Search with redesigned buttons at the bottom. It include links to: Downloads, Bookmarks, History, Add-ons, Sync, Settings and restore previous session. You can switch to blank page on homepage by modifying following setting.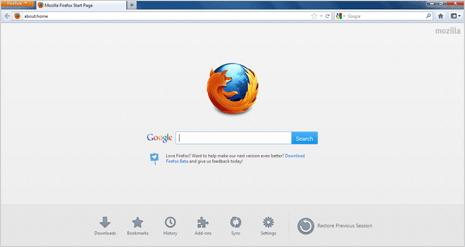 1. Open Firefox and click on Firefox button. Then goto Options > Options to open Options box. It will show "Mozilla Firefox Start Page" next to Homepage option.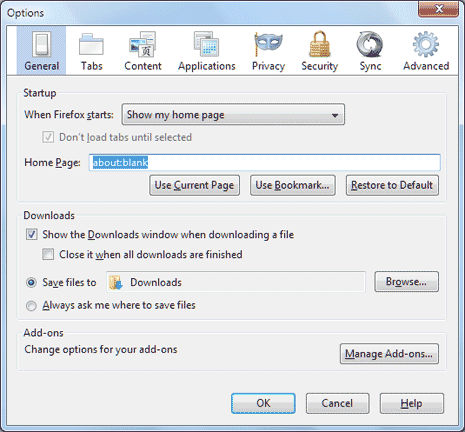 2. Type about:blank in box next to Homepage and click OK button to close this box. Now close and reopen Firefox browser, you should see blank page instead of new page with glossy buttons and Google Search box.
Display blank page on new Tabs in Firefox
With above setting you will see blank page every time you open Firefox browser. However, clicking + button to open new tab will show thumbnail images of recently opened website (just like Opera browser's speed dial feature).
1. You can also set blank page for new tab in Firefox. Just launch new tab by clicking + sign. You should see default thumbnail photos of recently visited webpages.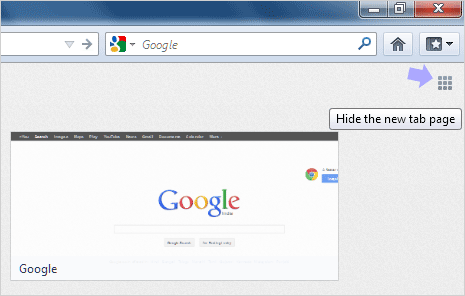 2. Goto top right and click on small button to hide new tab page contents. From now on, new tab will show blank page. You can revert back to speed dial like new tab by clicking that button again.