If you have played 'Word Racer' game while chatting with friends on Yahoo Messenger – then you will also love WordGrid game. It is a similar game for solo word making fun and play.
You have to make meaningful words from alphabets shown on word grid. Select words and then click on enter button. You can click 'shuffle' button to shuffle alphabets on the grid.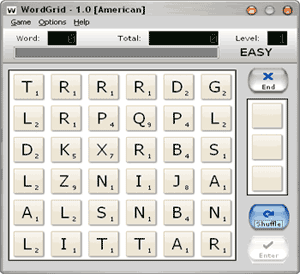 After little test play, you can switch to advance level to test your word making ability further. It is educational fun that can help you master the art of making words faster. Download WordGrid [link], its all free and is of small size 1.3MB.