Bing search engine from Microsoft made more buzz for its cool daily background wallpapers than for its search functionality. Number of apps and services have cropped up to relish cool daily Bing wallpapers. We have already seen website archiving daily Bing Wallpaper for download anytime. BingPaper is a dead simple program that allows you to set latest Bing image as desktop wallpaper.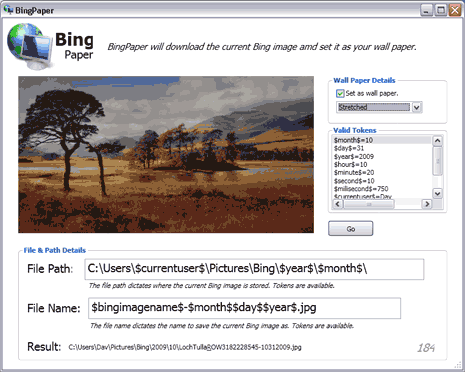 Also See – Download Bing Search Wallpapers [Exclusive]
It does not have too many customization option but good enough for automatic grabbing of latest Bing image to set as desktop wallpaper. Application window show latest Bing image, just click GO button to see it as desktop wallpapers (yeah, just one click and no options to ponder over).
It does provide basic option to set wallpaper as stretched, centered, tiled. It also show the folder name (at the bottom) where Bing images are stored on the computer. Grab BingPaper