Soon after Favicon of Bing search was leaked, Microsoft has unveiled its all new 'Decision Engine' Bing. It looks jazzy and classic just like Live.com search. Coming to features, it has auto suggestions feature like Google. It gives you related search query suggestions on the left sidebar.
You can hover mouse over search results to see summary of respective link and decide if you want to click through or not. Video results page play small video clip on mouse over video thumbnail pic. It offloads some features from Live search like airline status, weather, movies etc. Overall Bing looks impressive, checkout first screenshots (more pics here):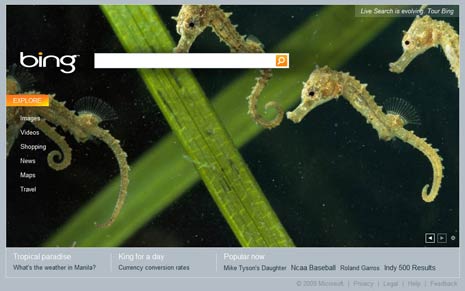 Here is official pitch video explaining all and find out more about Bing. Follow Bing on Twitter for interesting bits, waiting to test drive Bing – it for sure has created positive wave of interest, hope it stays intact after the launch.