Recently, Orkut listed apps to spice up and prepare your Orkut profile for upcoming Christmas and holiday season. Well, here comes more – the official Orkut Christmas theme.

Splash colors by activating this theme in few simple mouse clicks. Login to your Orkut account and click on 'edit' link next to profile option on the left side. Then click on 'themes' tab, scroll down and click on "Merry Christmas, The spirit of giving has arrived on orkut".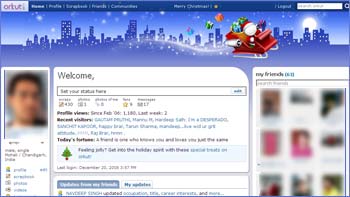 Above is preview of theme in action: it has lot of blue color, little snow and Santa Clause going high speed to deliver gifts on time. All elements of Christmas spirit with splash of color – activate this theme now.