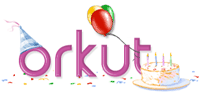 Orkut does not need any introduction atleast if you are in India or Brazil. This cutie of thousands of people has turned 4 yrs old (or young).
Orkut was launched 2/5ths of a decade ago. Since then it has grown pretty fast, with many more features, communities, friends, photos and since it first opened as an invite-only community.
Recently lots of new features and buzz came around with Orkut. Google is taking good care of this little baby. Year 2007 started with bang as Orkut was voted MTV Youth Icon of 2007. This clearly indicate love for Orkut from thousands of users in India.
With the launch of much needed Official Orkut blog, Orkut changed its looks for good. New Orkut interface was blue and white which was more in-tune with present times. More Orkut love for Indian users with introduction of regional language support for Hindi, Tamil, Telugu & more.
Introduction of new Privacy features was also key highlight of Orkut journey. Now you can get updates from all the Orkut friends about new photos, videos and much more. You can easily turn this feature off, if you don't wish to send update for any change in your profile content.
Techno Life also buzzed through Orkut experiment on procedure to search Orkut Profile using Google Search. Recent addition of introduction of seperate albums was welcomed by all. Now you can upload about 100 photos in your profile.
Hope to see many more useful changes in year 2008. It is one web service that can help you find number of old and new friends. Keep Rocking…Orkut!