You may have downloaded 'Cut the Rope' game on your iPad or iPhone and already know about this engrossing game. Now you can play 'Cut the Rope' game for free online in Internet Explorer 9 web browser (and other browsers like Google Chrome). Microsoft has parterned with game developers to bring HTML 5 only version of the game (does not require Adobe Flash) for quick and easy game play.
About 'Cut the Rope' free online version of game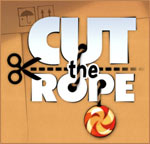 A card board package opens and you have to 'cut the rope' in specfic order for little devil at the bottom to sallow the hanging candy.
Game is very simple but engrossing as each level tests you ability to think in trying to cut the correct rope at correct time in order to gather stars and also let candy fall in devil's mouth.
Play 'Cut the Rope' game online in web browser
1. Open cuttherope.ie website in Internet Explorer 9 browser (wont work in older version). You can also play it in latest version of Google Chrome browser.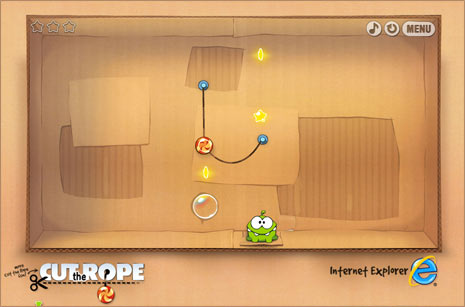 2. There are exclusive 25 levels for users playing game in Internet Explorer 9 browser. This also includes 7 exclusive levels which only appear when you pin the game website to taskbar on your Windows 7 computer. With game website opened in IE 9, right click on IE button on taskbar and click 'Pin this program to taskbar' option.
Microsoft is following Google steps, as previously Google launched HTML 5 version of Angry Birds online game. That became very popular with lot of users downloading Chrome browser just to play Angry Birds game.