Gmail has added new 'Labs' feature to preview Youtube, Flickr, Picasa and Yep links within Gmail inbox. Ideally, if you receive a Youtube video link in an email – you will click on that link, open a new webpage and then watch that video. With "YouTube previews in mail" feature turned ON, you can watch Youtube video within Gmail inbox without having open a new webpage.
Similarly, instead of staring at Picasa and Flickr photo links – you can see thumbnail preview images within Gmail inbox and only need to click through for original size images. These new features are very handy, if you receive lot of emails containing links to stuff on Youtube, Flickr and Picasa.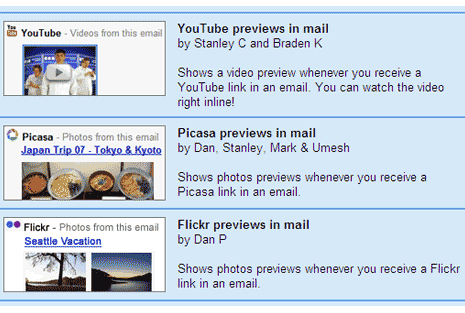 To enable these features, go to settings and then click on 'Labs' tab. Select enable for 'YouTube previews in mail', 'Picasa previews in mail', 'Flickr previews in mail' and 'Yelp previews in mail'. Then click on save changes button at the bottom and its all setup. Another feature to reduce clicks and make life easy checking email – Gmail is eager for feedback on this!