We share lot of online content with friends and family on different platforms. We copy and share photos, videos, webpage links through email, instant messenger and social networking websites like Facebook, Google Plus. What to do when we need to share only specific part of a webpage? Sending webpage URL and writing descriptive note on what to look on that webpage is a very time consuming routine. There are other practical and free online services which you can use – when there is need to highlight, quote and share parts of a webpage with online friends.
kwout: Quote part of a web page as an image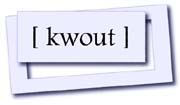 1. Kwout is a free and very practical web service for quoting any part of webpage as an image. Online editor allows you to select any part of webpage using mouse. That part is saved as an image which you can quickly share with your online friends.
2. Default way to use this service is through boorkmarklet. Once you add Kwout bookmarklet to web browser, click it while specific webpage is opened in the web browser. Cut the required part and post it anywhere you want.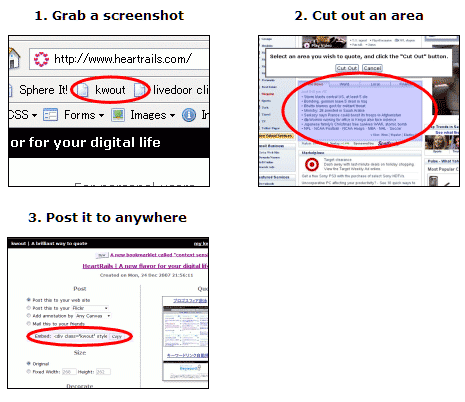 Sharing options include: post this to your web site, post this to your Twitter, Facebook, Blogger, tweet automatically from the next time, add annotation, add a video comment and mail this to your friends.
3. Browser extensions for Kwout service are also available for Google Chrome and Firefox browsers. You can install Chrome extension or Firefox plugin to integrate Kwout button (and functionality) within web browser of your choice.
Citebite: Highlight & Quote specific text on webpage
1. Citebite is another very easy to use online service for quoting specific text on webpages. Paste the text in the quote box that you want to highlight.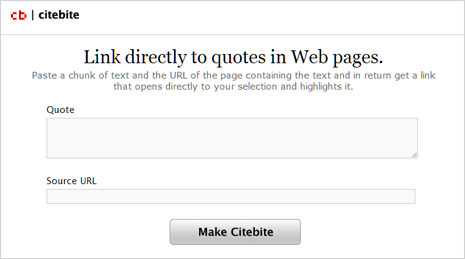 2. Paste the URL of original webpage is source url box. Click 'Make Citebite' button to generate page that display original webpage with specific text highlighted with yellow background color.