You may have come across short URL in (http://goo.gl/…) form. Such URLs are created using Google's URL shortening service. Just like popular URL shorteners like tinyurl, bit.ly – 'goo.gl' takes long URLs and squeezes them into fewer characters to make an easier link to share, tweet or email to friends. Besides basic URL shortening, it promises greater uptime to keep shortened links alive (backed by Google infrastructure) and ability to track clicks on goo.gl URLs.
Use 'Goo.gl' website to make short goo.gl URLs
1. Open goo.gl website in your web browser.
2. Paste or type the long URL and click shorten button.
3. It will generate shortened URL in (http://goo.gl/…) format.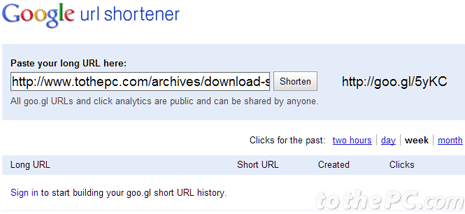 If you are signed into goo.gl using a Google Account, a unique short URL is generated each time a long URL is shortened. However, if you are not signed in to goo.gl, the same short URL is reused each time a long URL is shortened, across multiple users.
Also, if you are using goo.gl URL shortener by logging into Google account – you can easily track and view history of short goo.gl created in your goo.gl dashboard.
Use Goo.gl with Chrome & Firefox plugins
You can fasten up the process of making short goo.gl URLs by using plugin / extensions for respective web browsers. Checkout Goo.gl shortener Chrome extension to generate goo.gl short URLs in single click in Google Chrome browser. Firefox users can use goo.gl lite plugin for quick creation of goo.gl shortened URLs in Firefox browser.