Skype is all time favorite for real time video chatting with friends and family. Now you can also record and send video messages to Skype contacts anytime. New version of Skype allows recording of video messages which can sent to friends and received from Skype contacts for Free. So if your Skype friend is not online and you do not like typing the whole story – just turn ON the web-cam and quickly record short video message explaining the whole thing instead of boring typing routine.
Record & Send Video Messages in Skype on Windows 8, 7
1. Open Skype program and click to select specific contact to whom you want to send video message. Windows 8 users need to click on + button and then click on Send Video Message option. [Image Credit: Skype Support]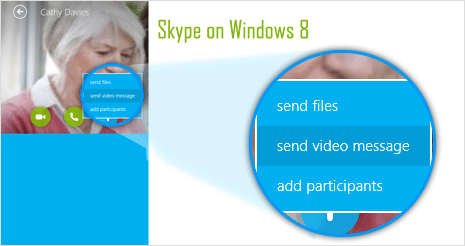 While Windows 7 users can right click contact's name and then click on Send Video Message option. If web-cam is not connected, then you will receive prompt to connect web-cam to start recording of video message.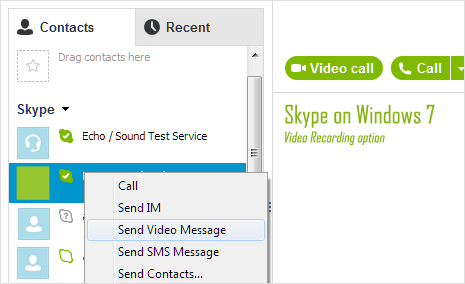 2. Click the record button and start recording your video message. After recording, click play button to preview recorded video message. If you do not like it, cancel this video message and start recording again.

3. Once you are done with video message recording, click the send button. Wait till the video sending is complete as seen in conversation window (it may take time depending on speed of your internet connection).
Received video message notification will appear in the conversation window. Click the video message alert to view the video message sent by your Skype friend. You can also view previously sent video messages by checking conversation history for specific friend.
Video Messages on Skype: Things to Note
1. For this you need web-cam connected to the computer. Also, latest version of Skype software is required. Just goto Help > Check for updates option to download latest Skype update (version 6.5.0 or above).
2. You can record and send video message of upto 3 minute duration. You can only send one video message per contact at any given time. Video messages cannot be sent to Group Contacts.
3. You cannot delete sent video message (note this). Video message can be cancelled and changed before it is sent. However, once message is sent – you cannot delete it.
4. Your video messages will be available for 6 months for free Skype users. Premium Skype users can view video messages any time as they are not deleted till premium subscription is active.