Facebook is a great way to keep touch with friends and family. Besides the core functionality of sending and receiving messages: Facebook has lot of other feature like uploading photos, sharing videos, creating fan pages and chatting with Facebook friends. Few users may not be interested in Facebook chat feature. While there is way to turn off Facebook chat feature and delete Facebook chat history – do you want to remove Facebook chat bar for distraction free Facebook experience?
1. Use https version of Facebook
Default http version of Facebook has chat feature enabled for all users. More secured https version does not have Facebook chat feature. You can switch from http to https to remove Facebook chat bar.
I. Goto facebook.com and then login into your Facebook account.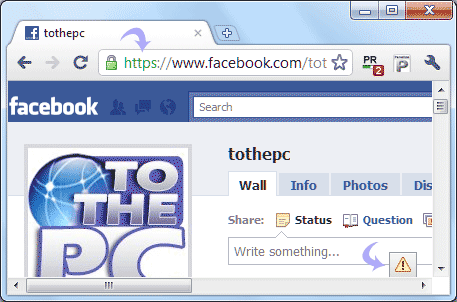 II. After Facebook login, add https:// in front of www.facebook.com/home.php URL. Alternatively, open https://www.facebook.com/home.php URL.
You will notice there is no chat bar at the bottom. Instead there is small icon at bottom right indicating Facebook chat is disabled.
2. Facebook Chat bar remover Chrome extensions

There are number of extensions that you can use to remove Facebook chat bar in Google Chrome browser. If you use Chrome as default browser, then using either of following extension is best way to get rid of Faccebook chat bar.
I. Facebook Chat Destroyer Chrome extension.
II. Facebook Chat Remover Chrome extension [Not available now – chrome.google.com/extensions/detail/ijffjkhbegnobmpmcdmejpjkiihgbbok]
Once you open either of above Chrome extension webpage, click install button for quick installation. Open or refresh Facebook website to view it without the Facebook chatbar at the bottom.