Antivirus software is intended to protect computer from viruses and other malicious stuff. There are number of robust free Antivirus software program to keep computer safe from viruses. However, there are also number of FAKE antivirus software programs that are viruses or trojans. These programs infect computer with malicious stuff, instead of offering any protection.
You can easily get rid of Fake Antivirus programs from computer using free utility "Remove Fake Antivirus". This program allows you to remove fake antivirus software that may cause harm to the computer. To get started, download Fake Antivirus software and double click to run it. Then click 'Start' button to allow program to scan your computer for Fake antivirus programs.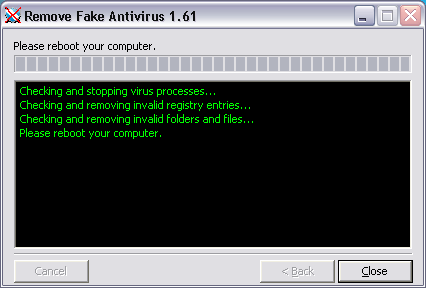 List of Fake Antivirus programs it can remove
Malware Defense, Internet Security 2010, Desktop Defender 2010, Security Tool, Antivirus Live, Personal Security, Cyber Security, Alpha Antivirus, Windows Enterprise Suite, Security Center, Control Center,
Braviax, Windows Police Pro, Antivirus Pro 2010, PC Antispyware 2010, FraudTool.MalwareProtector.d, Winshield2009.com, Green AV, Windows Protection Suite, Total Security 2009, Windows System Suite, Antivirus BEST, System Security, Personal Antivirus, System Security 2009, Malware Doctor, Antivirus System Pro, WinPC Defender and more.
If you are stuck with software removal program of a genuine Antivirus software program, then use App Remover utility for quick and easy removal process.