Is someone abusing and harassing you on Gmail? This is very serious and you should take note of immediately. Thankfully, there are resources that help deal with abuse and harassment coming from specific Gmail user. You can report that Gmail user, who is violating Gmail's Terms of Use.

Gmail's terms of use states: ""You shall not, shall not agree to, and shall not authorize or encourage any third party to: (i) use the Service to upload, transmit or otherwise distribute any content that is unlawful, defamatory, harassing, abusive, fraudulent, obscene, contains viruses, or is otherwise objectionable as reasonably determined by Google."
Ways to report abuse from Gmail user
1. Contact Google to report abusive Gmail user. Click here to report a Gmail user who is violating Gmail policies providing email details of that user. Also provide your details to allow Google to contact you back for the follow-up (if any).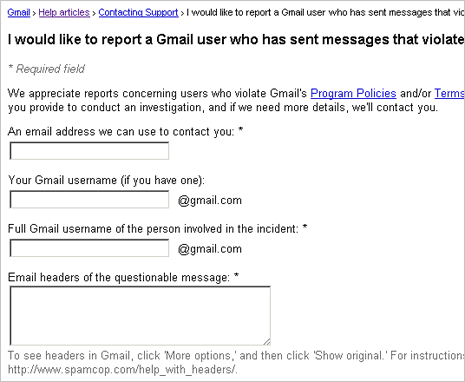 2. Setup mail filter in your Gmail account to avoid messages from abusive Gmail user.
3 Contact local authorities, specially if you know the abusive Gmail user personally.