For starters, Thumbtack is an online bookmarking service from Microsoft Live Labs. First thing that strike you about this service is interface – its damn cool with all that ajax effect and pure dag-drop functionality. To get started, create an account on Thumbtack website.
Then drag the bookmarklet to your browser bar and start collecting the notes. It supports both Internet Explorer and Firefox (yeah, surprise to see Firefox). Now select any part of a webpage using mouse pointer and then click on bookmarklet bar. Selected content will be copied, then you can add tags for selected content and save it.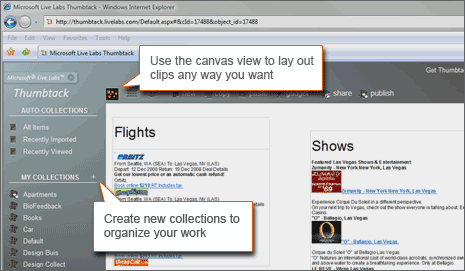 Later you can access saved notes and original reference links contained in them. Thumbtack looks good in terms of implementaion and hassele free collection of notes. However, with so many alternatives around (Delicious, the best one), they need to churn out few more features. Still early days, checkout Thumbtack (see video before you use it).